Sad news.. We've heard that Chuck had a serious accident resulting in a brain injury, and it is unlikely he will recover. Please kick a few bucks towards his family.
UPDATE -- On Sunday 3/13 Chuck was taken off life support and passed away peacefully. He will be transported from Wausau WI to Arlington Heights IL. Wake will be Thursday 3/17 at Glueckerts Funeral Home in Arlington Heights and Funeral Mass will be Friday 3/18 at noon at St. James Catholic Church in Arlington Heights. Chuck is survived by his wife of 10 Year Misuk, and 3 children Ben age 6, Peter age 4 and Charlie, age 1. The funds will be used to pay the considerable medical bills, funeral expenses and set up a living and college fund. Please donate and help. Thank you.
---
---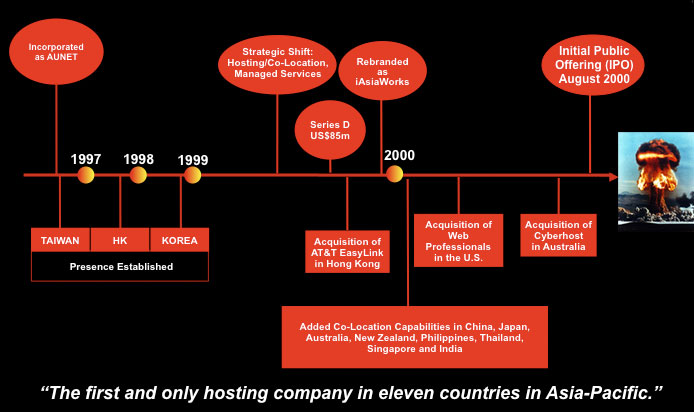 Welcome to the IAWK Memorial! This page is currently under construction using outsourced labor.
Updates:
Some of the information on this web site may contain projections or other forward looking statements regarding future events or the future financial performance of iasiaworks, including statements related to the growth in business and revenues. We wish to caution you that theses statements are only predictions and that actual events or results may differ materially. We refer you to the documents that iAsiaWorks files from time to time with the Securities and Exchange Commission. These documents contain and identify important factors that could cause the actual events or results to differ materially from those contained in our projections or forward-looking statements, including, among others, iAsiaWorks' recent shift in strategic focus to dedicated hosting, co-locations and managed services; iAsiaWorks inability to greatly expand its existing customer base; the operational challenges of developing, deploying and delivering iAsiaWorks services in a relatively new and evolving market with uncertain prospects for growth; competition from new and existing competitors; iAsiaWorks inability to manage rapid growth in operations and personnel; the inability to raise capital in the future; the risk of not being able to obtain adequate connectivity from third party providers; the political, legal and economic climate in Asia region, which is volatile, uncertain and subject to change; underdeveloped telecommunications and Internet infrastructure; currency fluctuations; and the inability to open new Internet data centers and deliver services when requested by our customers.